Harry Babbitt was a big part of the Kay Kyser band's success. He was also a respected professional, a spiritual person, loving family man, and my friend. Here is my tribute to Harry, along with some selected photos from his career.
April 10, 2004
I'm very sad to say I received an email late last night from Chris Babbitt, informing me that his father, HARRY BABBITT, longtime Kyser vocalist and star in his own right, passed away yesterday. This hits me hard, as Harry was the one who gave me the idea for both this website AND the Kay Kyser documentary. In addition to this, he was a friend who made himself available for many chat sessions regarding his Kyser days, and provided much first hand information that wouldn't have been available elsewhere. Harry also was/is our MAIN interview subject in this documentary, which, after several years of limbo, is now firmly on the track to completion, but more on that later.
I have many memories of Harry- watching him whirl my wife around the dance floor at a Harry Babbitt concert several years back, and how thrilled she was that he asked her to dance. He and son Chris (a great guy as well) meeting me for lunch when I worked at Paramount Pictures, and how he made one nervous fan (me) feel as if I'd known him for years. He was one of a kind, almost superhuman in terms of generosity AND talent. There have been many singers, but Harry's voice was one of the best. Perfect intonation, expression and sincerity, much like his personality. It should go without saying he was an integral part of the Kyser band's appeal, and fit in perfectly with Kay, Ginny Simms, Sully Mason and Ish Kabibble's pleasant, 'Come along with us', approachable style. Inside the industry it was widely known that Harry was one of the best singers around. The public loved him, too. His own accomplishments in early TV, such as the shows BANDSTAND REVIEW, GLAMOUR GIRL, and on THE STEVE ALLEN SHOW, and on radio, THE SECOND CUP OF COFFEE CLUB, are standouts. As are his many solo records, and recorded duets with Martha Tilton.
Finally, Georgia Kyser once told me Harry was one of the finest examples of a family man that she'd ever seen. He probably could have reached superstardom, definitely talented enough, but he preferred to work in the L.A. area mostly, instead of constantly traveleing, to be there for his family, many of whom (nieces and nephews, grandkids) have told of his kindnesses.
There'll never be another like him. Thank you, Harry, for your wonderful contribution to music and life. You'll be remembered here for a very long time.
Steve Beasley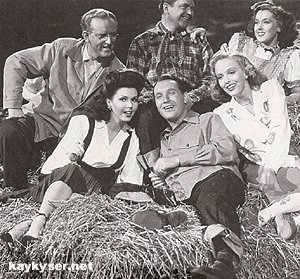 Harry with Kay, Ann Miller and Georgia Carroll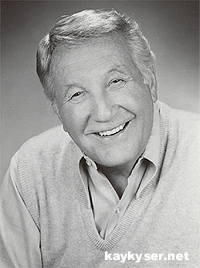 Harry in 1992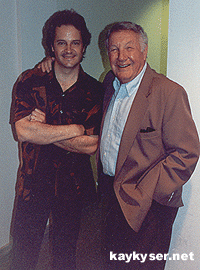 Harry and Steve, 1994