Excerpt from Kyser article by Steven Beasley published in BACK IN THE MOOD magazine

Move over, BIG BAD VOODOO DADDY... the "Ol' Professor", Kay Kyser is BACK!

He was one of the most outrageous, over the top performers of the whole swing era. From the late 30s to the late 40s he was the physical embodiment of the word success, with eleven #1 records and thirty-five top tens! He starred in seven feature films with such co-stars as Lucille Ball, John Barrymore, Karloff, Lugosi, Lorre. Kyser kept his radio show, Kay Kyser's Kollege of Musical Knowledge in the top ten for eleven years on NBC, yet if you ask the average swing fan about him today, they'll likely reply, "Kay Kyser. Who's she?"

You see, Kay Kyser disappeared from the general public in 1950. Quit. Went home. Never came back. Made his million, then left without even making an announcement. In contrast to his zany character onstage, he was equally as serious off. "As exuberant as he was while performing, at a party you couldn't get him aroused..." said KK orchestra singer, "Handsome" Harry Babbitt to this writer in a 1995 interview for the upcoming 1 hour TV retrospective on Kay & the band, KAY KYSER- the OL' PROFESSOR of SWING!

"But those were magic days..." says Babbitt who, along with Sully Mason, Ginny Simms, Ish Kabibble (real name Merwyn Bogue) helped make the Kyser band a solid, first-rate performing unit. The duets Babbitt performed w/ Simms were "like buttah", whether they were beautiful ballads like YOU & I or spoofing Romeo & Juliet in WAY BACK IN 1939 A.D. THIS band was secure enough to be downright silly, something the Millers and Goodmans would never have done. But for any detractors, let it be known that the silliness was ONE side of this incrediby gifted bunch of people whom KK guitarist/composer Roc Hillman called a "functional family.""Everyone got along, and it was happy times all the time," says Roc. "Kay believed if HE didn't have fun- no one had fun." One can't forget the enormous contributions of arranger/ composer George Duning, who gave the band its sound, and eventually went on to score many well known films.
| | |
| --- | --- |
| Ish, Kay and Ginny cutting up in their Hollywood heyday. | Kay and Ginny on the cover of "Radio Guide". |
But back to our story. Kyser's sudden, unannounced retirement from showbiz has to be a contributing factor in his nearly forgotten music career. Georgia Carroll Kyser, widow of Kay, and former singer with the Kyser band, spoke to me in the North Carolina home she and Kay shared for many years. "I really admired the clean break he made (from show business), although in looking back now, if he'd stayed in touch with the public a little bit he'd be more alive today in people's minds." As mentioned before, today's rejuvenated swing scenesters may not know the Kyser name, but mention it to someone over 65 and their eyes light up.( Trust me, I do this in public places for fun.) They say, "Oh! Whatever happened to him? I remember seeing him at (fill in the blank) when I was in my teens! What about Ish Kabibble?" The questions pour forth, as if I had asked about an old "Kollege" friend.
Here's a Kay Kyser timeline: Enjoy!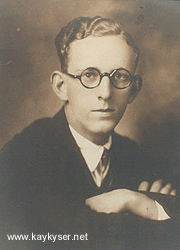 1905 - June 18th, born James Kern Kyser in Rocky Mount, N.C.. to P.B. and Emily Kyser. One of six siblings. Emily was 1st registered female pharmacist in state.
1926-27 - UNC bandleader Hal Kemp persuades James, UNC cheerleader and producer of the college plays, to take over as bandleader when Kemp heads north for fame & fortune. James decides his middle initial will serve as a snappy stage name, and Kay Kyser is born.
The original 6 members included sax player-vocalist Sully Mason. The band limps along, helped by Kay's cheerleading-style showmanship. George Duning joins as arranger.
1928-33 - Kay graduates UNC,takes band on road, has plenty of rough times, records several sides for Victor that go nowhere. Ish joins in '31.
1934-36 -Hal Kemp recommends the Kay Kyser Orchestra to manager of The Blackhawk club in Chicago. With steady gig, Kay can afford girl singer, hires Ginny Simms. The band does well and scores contract w/ Brunswick in spring of '35. Among recordings is theme song,"Thinking of You" with vocalist Bill "Smilin" Stoker. "Singing song titles" appear.Song title is sung at intro, Kay announces vocalist ("And now, heah's handsome Harreh Babbitt!!...).
1937-38 -Stoker leaves band in early '37, Harry Babbitt joins as lead male vocalist, duties shared w/ Sully Mason, and occasionally, Ish. Late '37 the "Kollege" concept is born to liven up slow Monday nights at the Blackhawk.. Originally called Kay's Klass, it was an amateur night interspersed w/ questions from Kay to the contestants to relax them. Rumor has it that the "classroom" setting was brainchild of Kyser's young agent, Lew Wasserman. In February, the Mutual Broadcasting System aired the show regionally, then Lucky Strike bought it and moved it to New York City. First New York show airs March 30th, 1938 on NBC. Sully comes up with the name, Kollege of Musical Knowledge and Kay is "The Ol' Professor". The format is music related quiz with songs and comedy. Incidentally, it's a smash hit from coast to coast, developing a weekly audience of 20 million listeners. "Diplomas" are mailed to listeners sending in quiz questions used on-air.
1939-40 - Kyser orchestra opens at Catalina Island casino, completes first film for RKO in Hollywood, That's Right-You're Wrong, co- starring Lucille Ball and Adolphe Menjou. Plays Gone With The Wind premiere in Atlanta, records multi-million seller, Three Little Fishes for Brunswick parent company, Columbia. 1940 sees the band at the top of the charts continually (as in '39), and 2nd film You'll Find Out opens in late '40, with guest appearances on radio show by Kay's 3 costars, Boris Karloff, Bela Lugosi, and Peter Lorre.
1941-43 -War declared in Dec. '41. History is made when Kyser becomes first to perform at camp shows for military personnel (before Hope!) at San Diego marine base , Feb.26, '41. Makes film short, Hedda Hopper's Hollywood, 3rd film Playmates with John Barrymore & Lupe Velez in late '41. Ginny Simms leaves band in the fall of '41, replaced by Trudy Erwin. In '42 band makes film #4, My Favorite Spy w/ Jane Wyman & Ellen Drew. Several KK players get drafted. Band bus fire in April, '42 takes 15 years worth of arrangements. When band reappears, gone are the singing song titles and newer, updated style begins. Kay vows to work no commercial gigs 'till war over (except those booked previously), just radio show, service shows, and movies. Kay's instrumental in helping the Hollywood Canteen get started w/ Bette Davis and John Garfield. Vocalist and future wife Georgia Carroll joins band early '43. Band makes brief appearances in films Stage Door Canteen and Thousands Cheer. Last RKO film, Around the World w/ Joan Davis. Various singers are added: Dorothy Dunn, Julie Conway, Diane Pendleton. KK film #5 for MGM, Swing Fever w/ Marilyn Maxwell is released. They hadn't a clue what to do with Kay. Hollywood Cavalcade bond tour begins, w/ cross-country train trek starring the biggest H'wood stars. Kay is mc, band backs up stars (there's some stories here, folks).
1944-46 - War continues to change the band. Last film, Carolina Blues is released. Harry Babbitt joins navy in may of '44. Kay and Georgia marry in June. Phil Harris subs for Kay when he and Ish go to pacific region. Don Leslie first replaces Babbitt, then future talk host Michael Douglas. Douglas has several hits w/ band. Kay begins to have serious trouble in feet with arthritic-type condition. Seeks help, but none found.. Turns to Christian Science to find relief. Kay begins fund-raising for several projects, including North Carolina Good Health campaign. Frank Sinatra and Dinah Shore donate their voices to It's All Up To You, song to benefit N.C. good health plan. Jane Russell cuts 2 songs w/ the band (no one seems to know why!). Harry Babbitt returns from navy, replacing Douglas. Vocalist Dolly Mitchell joins. War ends, Kay wants to retire, but contracts prevent it.
1947-49 - Band continues to have hits, but Kay's participation is limited. He's more interested in philanthropic deeds, helping build wing onto St. John's hospital in Santa Monica. In gratitude they place Kyser portrait at entrance to medical library. Vocalist Gloria Wood is added. Babbitt leaves band for solo career. Kay fights alongside Batman and Robin in comic book (!!). After 11 years, Kay ends "Kollege" radio show, and tries to retire again, but is talked into doing 1 year (2 seasons) of "Kollege" show on NBC-TV for Ford Motor Co., (Dec.'49-Dec.'50).
1950-85 - In December Ford cancels tv show even though in top 10, reportedly because Mrs. Ford didn't care for the silly humor. It's eventually hosted by deadly serious "Tennessee" Ernie Ford. Kyser gladly uses this opportunity to retire with no announcement and no fanfare. He just disappears from public life. Moves family (wife Georgia and eventually 3 daughters) home to North Carolina. Turns down offer after offer for appearances, interviews, photos. Continues his Christian Science studies and North Carolina public service, helping bring educational tv ( now Public Television) to his home state. In the 70s, Kay worked for his church in Boston, running the tv-film dept. Became teacher and lecturer in late 70s-early 80s, traveling on the lecture circuit. Would grant radio interviews discussing band days in return for lecture appearance promotion. In 1983, Kay was named President of the Worldwide Church of CS. When asked about it by news reporters, the Kyser humor came alive: "It's an honorary title. I haven't been elected Pope or anything..."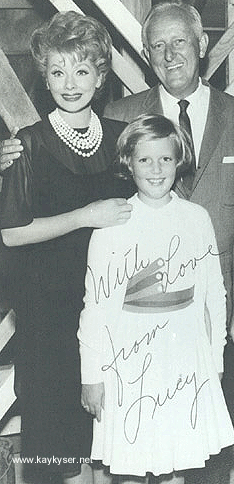 An elder Kay with his daughter Amanda, and early co-star, Lucille Ball
Kay Kyser died of heart failure at his office on July 23, 1985. He was 80. To the end, his selflessness, humor and charm were with him. Like his theme song in the big band days, he always seemed to be Thinking of You.
This timeline is basically accurate, though several dates may not be entirely chronological. Some parts excerpted from published articles written by Steven Beasley, writer/producer of in-progress documentary, Kay Kyser-the Ol' Professor of Swing!, And Kyser historian.
Some Kyser cds and films are available through special order. Put 'em on and C'mon chillen, yess'dance!!! So long, evahbody! (Kyser sign-off)