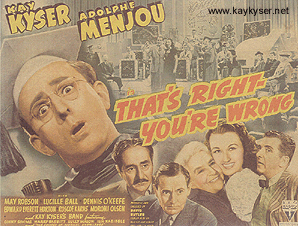 1. THAT'S RIGHT-YOU'RE WRONG
(1939 RKO)
Kay Kyser Adolphe Menjou, Lucille Ball.

Kay and the band's radio show success brings a Hollywood movie offer in this movie-in-a-movie. It's fresh and entertaining with Menjou as the evil producer. Great songs, great energy. Ok, I'm biased.

2. YOU'LL FIND OUT
(1940 RKO)
Kay Kyser, Boris Karloff, Bela Lugosi, Peter Lorre, Helen Parrish, Dennis O'Keefe. (photo at top)

This, the 2nd KK film, is now a cult classic. People buy bootleg copies off EBAY all the time. But, a-ha! They're not restored copies. Kay and the band in a haunted house. Swing numbers one minute, Ish disappearing behind secret panels the next. The ONLY time (perk up, you experts) Karloff, Lugosi and Lorre appeared together in the same film. I love it, but Kay's a bit too over the top in first scene. Incredible songs! "Like The Fella Once Said", "You've Got Me This Way", "I'd Know You Anywhere", "One Track Mind", Ish's "Bad Humor Man (rumor has it that the song was to have been sung by the "3 Boogie Men"!! as print ads described them). A MUST for Halloween.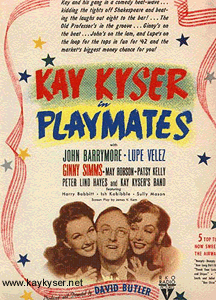 3. PLAYMATES
(1941 RKO)
Kay Kyser, John Barrymore, Lupe Velez, Ginny Simms.
Ginny gets co-star billing in her last film before leaving the band. Also known for being Barrymore's last film. (And yes, he did indeed read his lines off a sign or blackboard just off-camera). Publicity stunt goes awry, with Barrymore having to teach Kay to perform Shakespeare. Patsy Kelly, Peter Lind Hayes are memorable, JB cartoonish.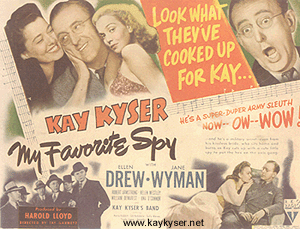 4. MY FAVORITE SPY
(1942 RKO)
Kay Kyser, Ellen Drew, Jane Wyman.
Not the Bob Hope film of the same name! Kay gets married and is drafted to become an American spy! Silly and funny. Gives you that goofy 40s feeling. Harry sings "Just Plain Lonesome", Sully sings "Got the Moon in My Pocket".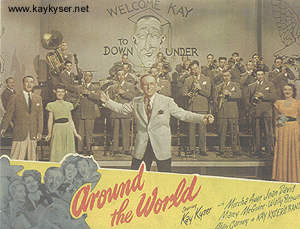 5. AROUND THE WORLD
(1943 RKO)
Kay Kyser, Joan Davis, Mischa Auer.
Kay and band fly around the world to entertain the troops. Band has now updated style to harder swing. Check out song "Roodle-ee-doo". Georgia Carroll and Harry Babbitt featured on "Candlelight and Wine".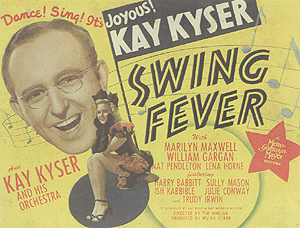 6. SWING FEVER
(1943 MGM)
Kay Kyser, Marilyn Maxwell.
Kay plays Lowell Blackford, a hayseed composer in the big city w/ strange hypnotic power.. Gets mixed up w/ corrupt boxers and well, enough said. MGM had no clue what to do with him. Great posters, though!

7. CAROLINA BLUES
(1944 Columbia)
Kay Kyser, Ann Miller, Victor Moore.
Kay and band can't stop turning down camp show requests even though they're overdue for a vacation. Moore trys to scam Kay into using Miller as singer when Georgia leaves band for matrimony. The last Kay Kyser feature. Rumor has it one was in development in 1949, but never appeared. Out of Kay's seven features, I rate this a seven.
Kay and his band also appeared in 2 other films:
Stage Door Canteen
(1943 UA) performing "A Rookie & His Rhythm".
Thousands Cheer
(1943 MGM) performing medley "I Dug a Ditch- Should I?". It's Kay and the gang in glorious color for the first (and only) time!
Kay and the band did several short subjects as well, the exact number not confirmed.
It should be noted that these were, in effect, pop movies of the time, and though they're certainly not Gone With The Wind, they are for the most part fun, funny and entertaining. It's also important to remember that the stories always revolved around Kay, unlike most bandleader's films of that time. For example, the two Glenn Miller movies, though entertaining, seldom feature Glenn for more than a line or two unless the band's performing.
-Steven Beasley